Are you a fishing enthusiast and going fishing? Then, it is the perfect time for you to take a look at our Sage Mod fly rod review!
You look at the pristine water in the lake, reflecting on your life while the breeze sweetened by the smell of some unknown flowers brush through your face. You notice ripples in ever-widening circles and smile, realizing the wait is over. Just the cherry you wanted to top your cake of amazing afternoon. So, you cast your fishing rod with all your strength. Oops! The fish lives another day. How did it escape? Was your fishing rod not light, accurate and smooth?
Are You Missing Something Then..!!
You don't need to worry about such ruinous afternoon anymore. Sage brings to you one of the most exclusive fly rod ever. The Sage MOD Fly Rod is gracefully smooth, light and accurate for those who require only moderate action. Sage is one of the leading manufacturers of fly rod material who architects their product with innovation and unique design. Sage handcrafted the first rod in 1980 and since then, their only objective has been to enhance the performance of fishing rods while putting attention to design and functions as well.
With the fleet of high-quality fly rods in the market today, Sage has resolved that the next frontier of fly rods is accuracy, lightweight and its smooth feel for people who hunt for enjoyment rather than fast action. Sage Mod Fly Rod meets the most demanding standards of quality, dependability, and efficiency. Sage fly rods are popular with most anglers and fishing enthusiasts who seek enjoyment besides precision, just like a leisure afternoon who wish to enjoy rather than just fishing.
So what are you waiting for? Grab your Sage Mod Fly Rod and be among the first luckiest people to have experienced fishing with such improvements.
Sage Mod Fly Rod Review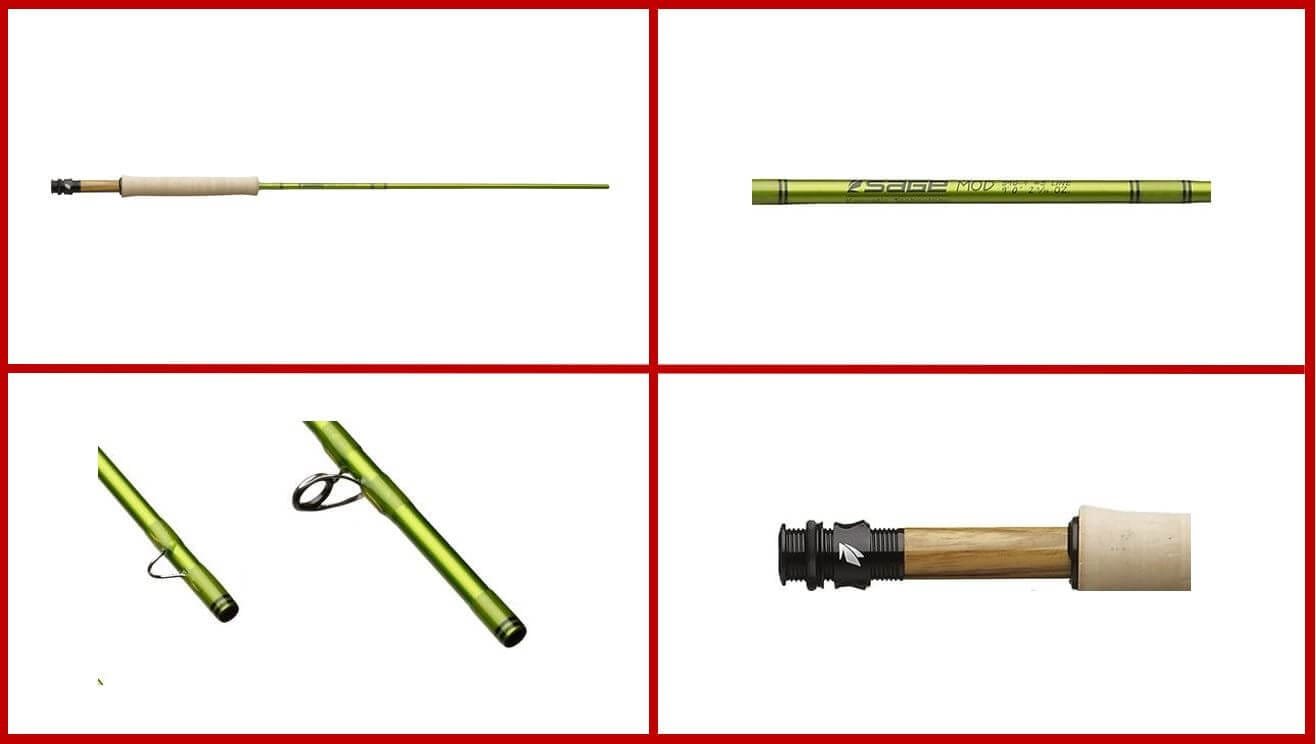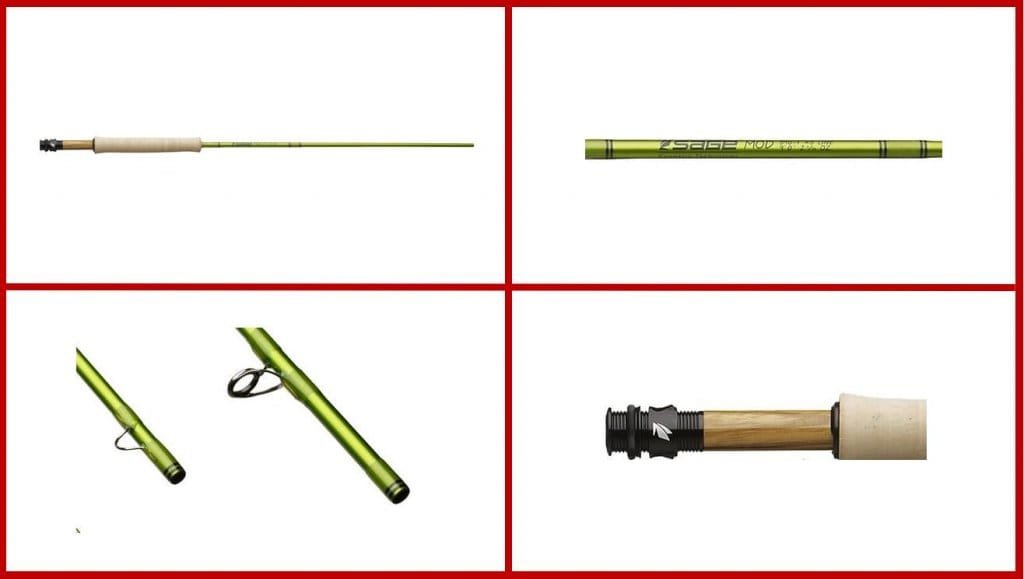 Sage Mod Fly Rod is not just any fly rod. It comes in a complete package. Sage is offering you a fishing fly rod with features like never before.
Why is it unique? Let's see that in detail.
Length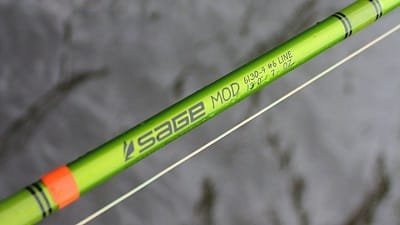 The length of the fly rod controls the casting distance of the rod. Sage MOD is modified to provide maximum efficiency at distances and scenarios that the trout angler comes across most often. It is not a long-range sniper rifle. Instead, it has a moderate length which is modeled in a way that helps you cast rods controllably and with more ease. It is more useful for new fishermen. This meticulous fly rod gives you pinpoint precision at short distances. If you are new in the game, don't get frustrated with long fly rods.
Lightweight
Sage initiated the esteemed Konnetic Technology® that makes the fly rod thinner and lighter without compromising strength. Sage Mod Fly rods are made with the same Konnetic Technology® like many other versions of fly rods manufactured by Sage. Sage MOD Fly Rod is a powerful rod that provides high performance as a result of the high definition material it is made from. Not only does the rod give a feathery light feel, but it also provides more feel of how the rod is operating compared to other models of fly rods. It gives you a wonderful experience when you are looking forward to catching a trout.
Accuracy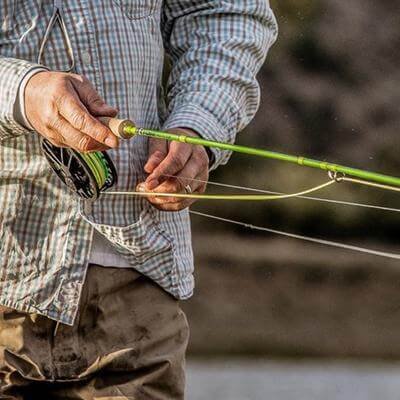 Why is this accuracy so important? Unless you deliver a fly in front of a fish with the most accurate presentation, you are actually decreasing the chances of catching the fish. So accuracy is paramount when it comes to catching fishes. The Sage MOD series greatly achieves the accuracy points.
As mentioned earlier, Sage MOD Fly Rod provides medium action. This enables the anglers to make sophisticated, meticulous casts to fishes with more improvement than any fast action rod. Since most anglers do not need to make long shots often, sage mod will provide you the perfect rod which is considered the best in its precision in short distances and its capability to function in the short game. Sage Mod rod outshines all other rods in circumstances where you require delicate performances on small rivers or lakes.
Isn't accuracy the ultimate ruler?
Flex and Feel
The fly rod gives you a soft feel. It has less stiffness compared to other fly rods and has a nice soft tip which provides a buttery smooth action. The feeling of touch and accuracy derived from fishing with this fly rod is satisfactory to most users. Sage MOD Fly rods give the finest moderate action with medium recovery speed while giving a lot of feel during short or medium casts.
Durability
Sage MOD fly rod has been engineered with high quality, long-lasting Fuji ceramic guides. This improves the performance of the fly rod with increased durability. The Fuji ceramic guides also reduce drag besides lasting for a very long time.
Sage has also chosen hard chromed snake guides for building their fly rod, which not only looks good and delivers outstanding performances but also lasts for ages.
Our fly rod is quite the looker!
Resistance To Corrosion
The aluminum tube of this fly rod is glazed with black powder along with Sage medallion. This protective layer prevents corrosion of your fly rod. Sage MOD fly rod also comes enclosed with a black rod bag with a Jade logo and model tag.
Why spend your valuable money on products which easily gets damaged?
Reel Seat
The reel seat is created with zebra wood insert and glossy black alloyed-aluminum. The single up-locking reel keeps the reel fastened properly. This makes the base steady and reliable.
These are the main features of this product along with its good looks. But you know words can't explain the facts which you can realize by using a product. The product will not disappoint you. So what are you waiting for?
Are you still unable to decide between buying this product or not? Then let's take a look at the pros and cons.
The most obvious one- it is really LIGHT!
Accuracy rules everything! Its medium action delivers accuracy during short-range fishing.
The short length is suitable for new fishing enthusiasts and is easy to carry.
The fly rod gives you a greater feeling than most rods.
It is durable and reliable. So, you just have to invest once.
It is resistant to corrosion.
The design is very attractive. Who doesn't want to show off while around other fishermen?
The main con of this product is that it cannot be used for long-range fishing. However, this fly rod has been designed for short-range fishing for people who wants to have fun. Due to its moderate action, it isn't powerful and fast enough for long-range fishing. But how many fishermen actually fish at very long distances? If Sage only make heavy and longer fly rods, who will deliver to the new fishermen or existing anglers who like to fish at short distances?
So, what do you think- do the pros triumph over the cons? We believe the answer is obvious.
Sage Mod Fly Rod Outfit
When Sage says this fly rod comes in a complete package, they did not just mean it figuratively. It actually does come in a COMPLETE package. Let's see what is included.
Sage MOD Fly Rod
Premium Sage Click Reel in a stealth color
Premium RIO Trout LT Floating Fly Line
Backing and Tapered Leader
Final Words
Sage is not the only one who is selling fly rods, right? Many high-quality fly rods are being sold in the market like Orvis and other versions of Sage. Then why choose Sage MOD Fly Rod over other products? In this Sage Mod Fly Rod review, we tried our best to ensure the best possible data for you. So, the choice is now yours.
At the end of the day, everything depends on how you use a product. The Sage MOD Fly Rods will really make casting and catching fish easier for anyone, even for a complete beginner. It provides the perfect balance of strength, accuracy, weight, and durability while being simple to swing and cast. Take it anywhere in the world and rest assured knowing you have a dependable fly rod in your hands. It's a superb fly rod that is definitely worth buying if you are counting the grams and still want top-notch performance. This could be a product that will attract a broader crowd. As we explained earlier, this product has a single negative fact, but the pros are, undoubtedly, much more than our con. So do not wait and quickly get your hands on our Sage MOD Fly Rods!
Last update on 2019-08-25 / Affiliate links / Images from Amazon Product Advertising API