After thorough research of some of the most popular saltwater fly reels available in the market, we've chosen these 10 best saltwater fly reels for the money that we think are the best from the current market and we recommend these to anyone who wants to buy a really good fly reel.
Best Saltwater Fly Reels For The Money
Preview
Editor's Choice
Preview
Preview
Preview
Preview
Preview
Saltwater fishing gears are readily available and they come at a wide range of prices. The same thing can be said for saltwater fly reels. You can always buy a cheap fly reel (Check out our article: Best Fly Reels Under 200 only) but it is good to invest some money in a good reel. Money itself isn't the only factor here. More than that, you need to spend time learning about different types of reels and only then, make an informed decision that suits all your needs. This article will help you to know about the best saltwater fly reels for the money.
Here, we recommended the best saltwater fly reels. We're also going to provide you with the buying guide and all necessary information about fly reels.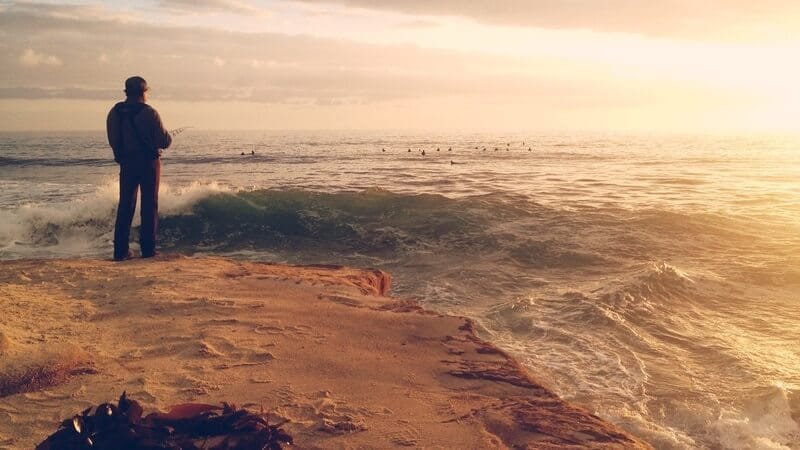 The Piscifun Platte is a fully sealed fly reel that is very much suitable for saltwater fishing. The features of this reel are given below:
The reel is fully sealed with a stainless drag
It has a click retrieve and drag knob for adjusting drag settings
The large arbor design enables you to pick up the line fast
It comes with an Aluminium built, has precisely CNC machined 6061 T6 Aluminium.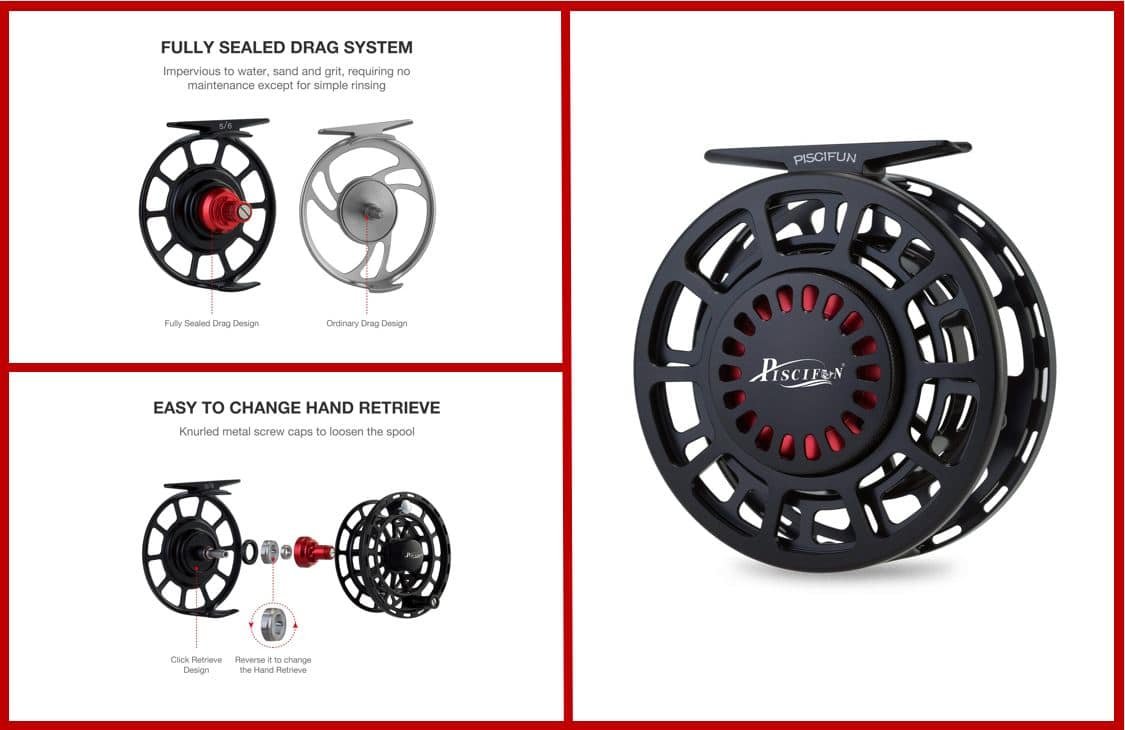 Lifetime warranty
Anti Corrosion
Adjustable drag
Great build quality
Only for left hand retrieve
The Piscifun Platte fly reel is a solid choice. It comes with a lifetime warranty and since it has great aluminum built and it is fully sealed, it won't corrode. The adjustable drag is another sweet feature. One downside is that the reel is only meant for left-hand retrieval. However, considering all the benefits this sturdy reel is offering, we decided to put this on the top of our Best Saltwater Fly Reels for the money list.
The SLV Diecast reel by Okuma is a sweet deal. The salient features of this reel are given below:
It is a disc drag reel with drag washers being stainless
It has a roller bearing that gives drag in one direction
The built is aluminum with stainless steel pools
It comes with a large arbor spool design
Budget Friendly
Lightweight
Durable
Easy to use
Can make retrieval difficult because of its size
Choosing the right line is tricky
The Okuma SLV diecast reel is a really cheap reel that is durable, lightweight and is easy to use. It comes with an aluminum design so the corrosion will be minimum. The only downside is that choosing a line for the reel can be really difficult because it has a large arbor.
The Reddington behemoth reel, as the name suggests, is a beast. The features are given below:
The Behemoth reel has the most powerful drag which is adjustable and made out of carbon fiber.

The construction is unique, ut has a die-cast construction
The arbor design speeds up the retrieve
The drag knob adjustment is pretty easy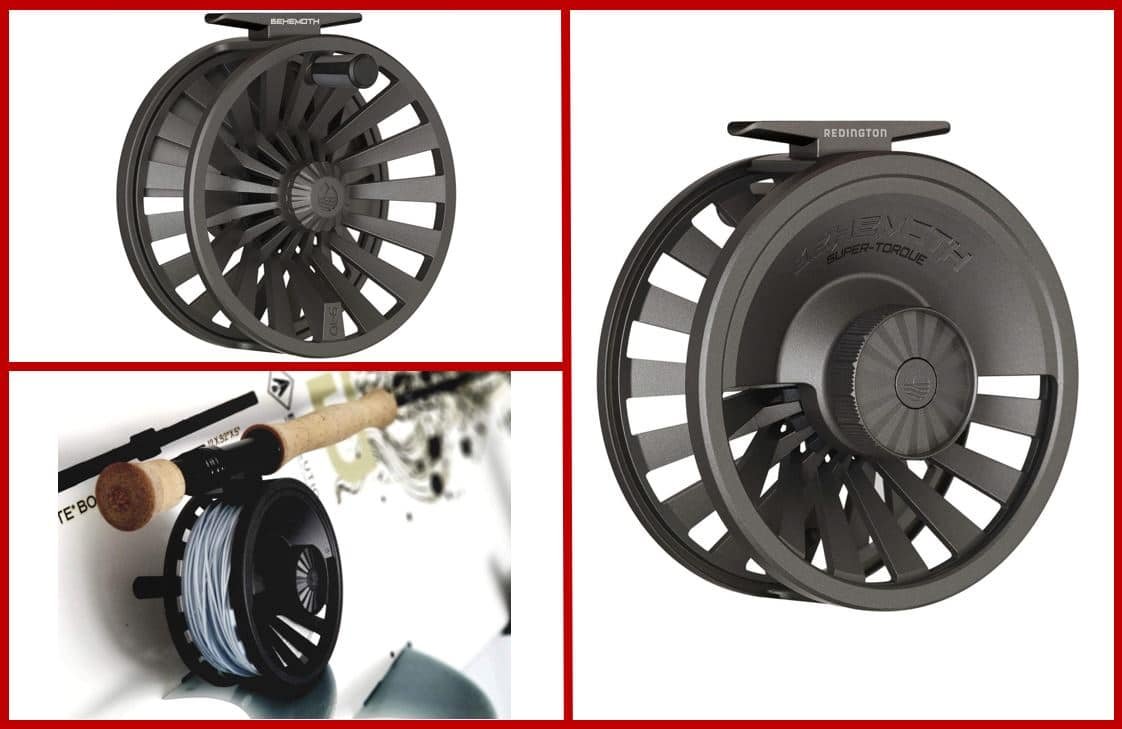 Drag's strength
Design and Build quality
Very Heavy
Can be difficult to use
The Reddington behemoth reel is a reel that is meant for catching heavy fish. It has an excellent drag strength, the design complements it and the build quality is top notch. The one con of this reel is that it is very heavy so, the usage can be a problem.
The Orvis Hydros SL Fly Reel is a great addition to Orvis' ever-increasing line up of reels. This particular model comes with the following features:
It has an aluminum body
The arbor is large, spools are narrow which is great
The drag system is fully sealed and the drag itself is strong
The design is attractive and sleek
Good value for money
Anti Corrosion
Great Performance
The drag knobs aren't good at all
No high-end features
The Orvis Hydros SL fly reel comes with an aluminum frame that somewhat prevents corrosion along with a fully sealed drag. The drag system is great but the knobs aren't. It also lacks some high-end features but the performance it provides is good.
The second Piscifun product in our list, the Crest Fully sealed fly reel exhibits some good features which are given below:
Stainless Drag that is water, sand and grit proof
Thearborr design is large, it's a U shaped arbor with fast pickup
The click drag system can be adjusted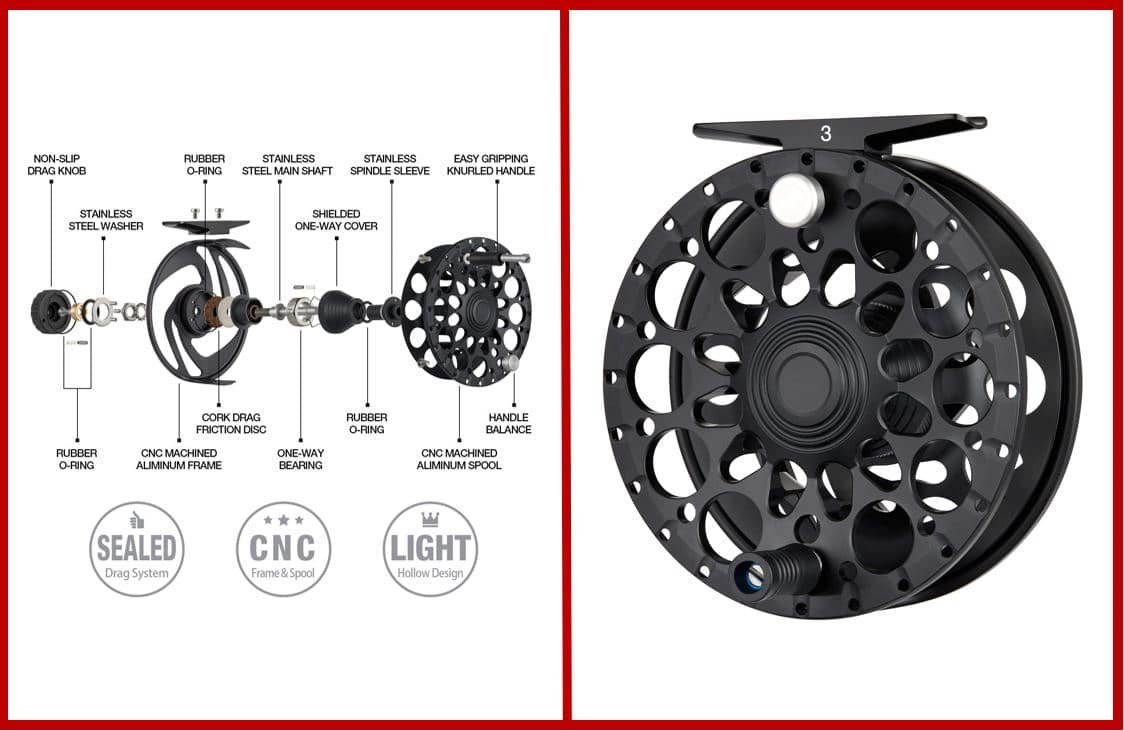 Lifetime Warranty
Great Build quality
Only for left hand retrieve
As with the earlier Piscifun product, this fly reel is also left-hand exclusive. Apart from that, all other features are also quite similar. It does come with a great build and a lifetime warranty making this fly reel a good investment.
Reddington produces some of the best fishing reels on the market and the RISE fly fishing reel is no exception. It has the following features:
The CNC Machined Aluminium Design(anodized 6061-T6) is the build of the reel
It has quick release spool with dual hand retrieval
The reel comes with a smooth carbon fiber drag system
It also has an Ultra Large arbor design and a huge drag knob for adjustments
Lifetime Warranty
Comes with a nylon case
Great Reel and drag system
Not much durable build
Drag quality isn't good, it's prone to wear
The Reddington RISE fly fishing reel comes with standard features. One addition is that you get a good nylon case. The downside is that the reel has a questionable build quality and the drag despite performing great isn't built to last. The reel, however, is very affordable so, it could just be your cup of tea.
Sage is a well-known company that makes a quality product. The Sage 2200 series fly reel is yet another addition to their esteemed lineup. The features are pointed below:
The material of the build is the machined die cast

It has a carbon fiber drag system
The size of the handle is quite large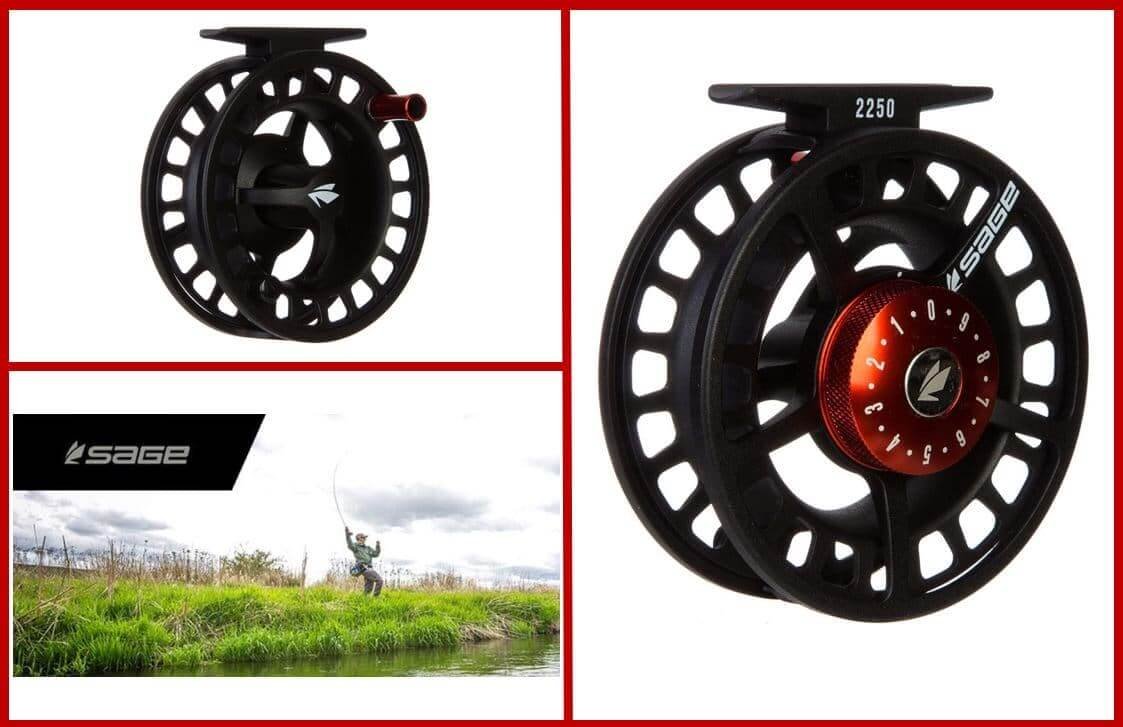 Ergonomic Design, comfortable to use
Affordable
Okay level of drag system
Although the drag system isn't as nearly as good as some others reel in our list, the Sage 2200 is still a great reel which is comfortable to use, affordable and has a great ergonomic design.
The AnglerDream archer fly fishing reel is a great reel overall that has the following features:
It has the CNC Machined 6061 Aluminum spool and stainless steel built

It comes with high impact retention which makes it super durable.

The large arbour can be used for speedy line retrieval

The drag is consistent and it uses less line coil.

It has a disk drag system with one-way clutch bearing suitable for both the hands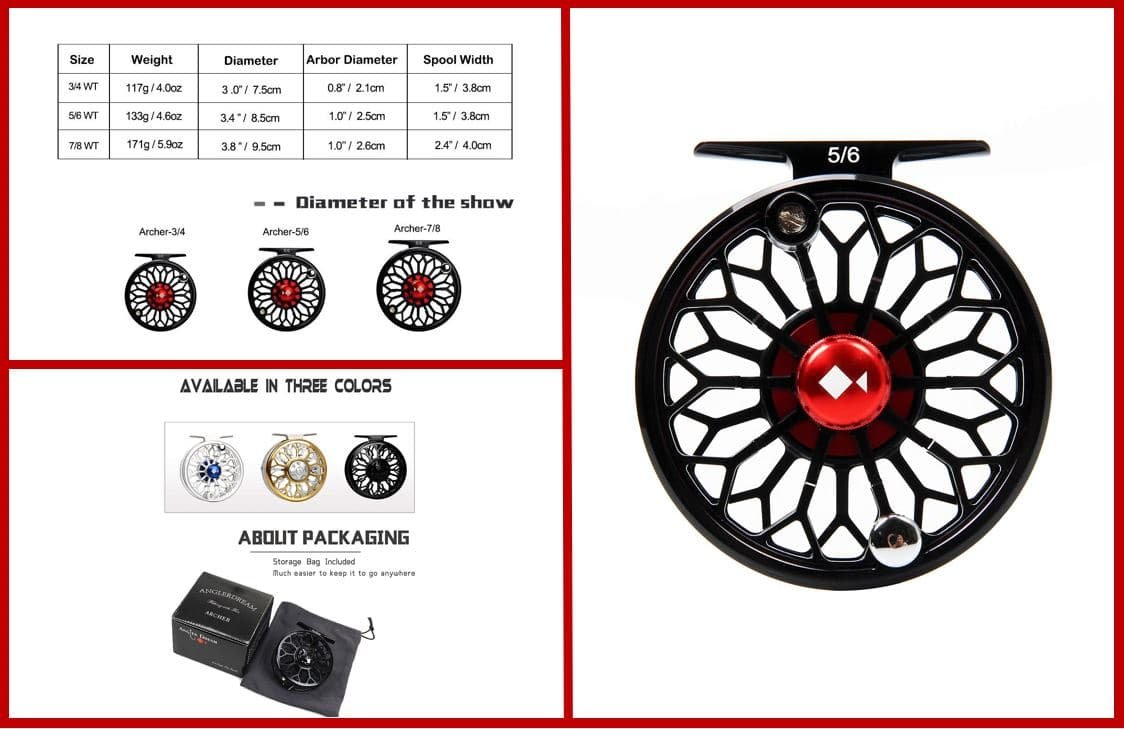 Lightweight
Impressive disc drag system
Really Cheap
The build quality is somewhat not at par with the other best saltwater fly reels
Despite having an aluminum spool, the built itself is stainless steel, so the build quality isn't noteworthy. The things that stand out though are it's lightweight features great disc drag system and the price.
The BluFied fly reel fishing reel is a really great reel for saltwater fishing. The features of this reel are given below:
The fly reel has great built with an elite grade CNC alloy.
The drag performance that the reel has is something worthy of a highlight.
The reel is waterproof and it resists corrosion
The design of the arbor is pretty good too.
The click drag knob is also very handy with adjustable settings.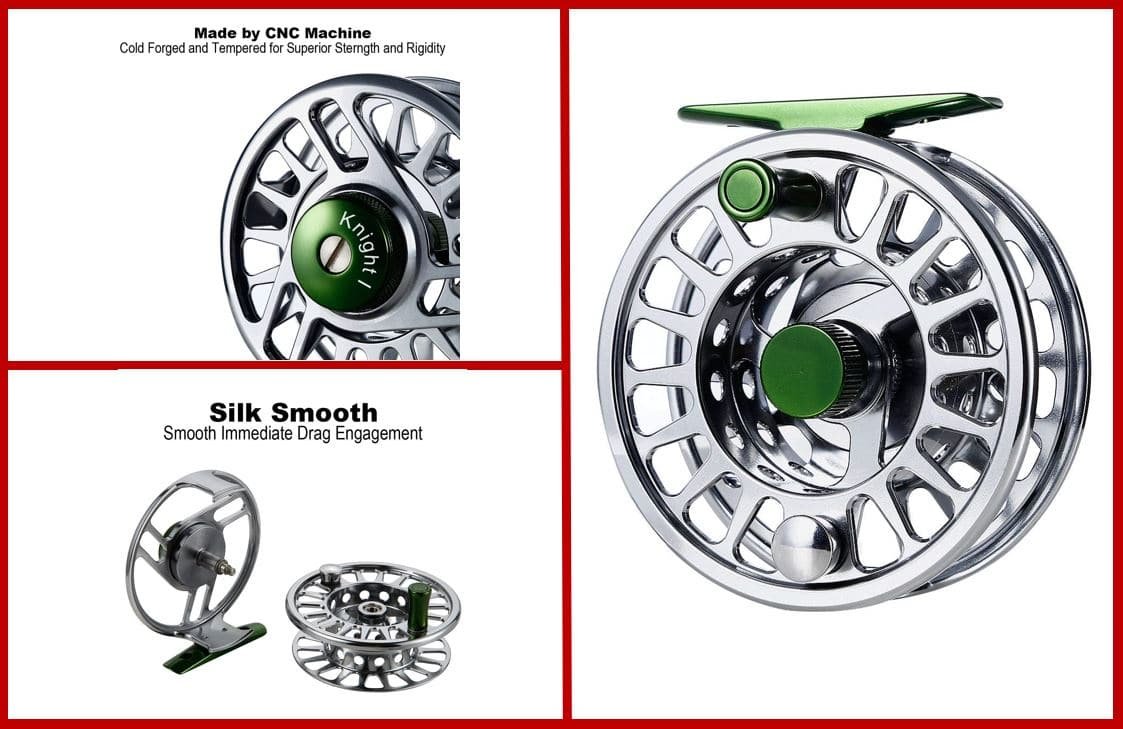 Lightweight
Easy to use
Comes with a protection bag
Drag quality is a bit worse than the other fly reels listed here
Doesn't have a great arbor quality
The BluFied fly reel fishing reel has arguably the best built out of the bunch, it also comes with a very handy drag knob and a protection bag as far as accessories go. in addition, the reel is easy to use and it does have a relatively good performance. The downside to the reel is that the drag quality is a bit worse. The reel also doesn't have an arbor to boast about.
The name of this reel might be long but so are the features. The MaximumCatch Sparta fly reel is a really good reel with tons of features which are listed below:
The reel has a fully sealed carbon and stainless steel disc drag system.
The large arbor comes with a deep V-spool design that increases the backing line capacity of the reel
It has a quick release spool for retrievals
The reel has a fully machined 6061 T6 Aluminium construction
It is anodized and corrosion resistant
Tough build
Fast retrieve
Easy to use
The MaximumCatch Sparta fly reel is an excellent fly fishing reel which has a stainless steel drag system. This material can be susceptible to corrosion but it is fully sealed so that is a food thing. The V spool design does an excellent job with quick retrievals. The reel is corrosion resistant and it has a tough build. The reel is also pretty easier to use. This makes for a really great reel.
What Is A Saltwater Fly Reel?
A saltwater fly reel is basically a fly reel that is meant for saltwater fishing. It resembles a fly fishing reel but can be used to catch relatively large fishes that we can see in the salt water. Hence, they're commonly used in sea fishing.
What kind of Reel is needed for saltwater fishing?
Let us answer this with 2 things in mind. First, let's talk about pricing. You can probably spend a reel that cost thousands of dollars for a really strong reel or you can spend a relatively easy going kind of reel that has the most important things that you might need. There are also many lightweight, multi-purpose reel for offshore fishing as well. You can get a good reel for about 100 to 300 dollars.
After Price.. Let's look at the types of reels >>>
That's with the price. The next thing to consider is the actual kind of reel. You need to get a reel that will provide you with a counterbalanced spool so that the reel doesn't vibrate much. Also, you can buy a reel with a large arbor, this gives you an advantage with faster retrieval. In addition to that, the drag pressure that your reel gives should be consistent. The drag itself should also be great.
As far as the backing is concerned, you wouldn't need aacking of more than 100 meters. Even a 50-meter backing is sufficient. Mainly because of the fact that inshore fishing's nature; it's hand to hand. On rare occasions, when big fishes are in question, you might need a 200-300 meter backing.
Saltwater vs Freshwater Fly Reel
There are a handful of differences between a saltwater and a freshwater fly reel. The reels may differ with manufacturers individually but in general, saltwater fly reels exhibit certain characteristics that freshwater fly reels don't. The differences can arise in various aspects. They're given below:
Build Quality
Freshwater fly reels are manufactured with simple metals which are ideal for freshwaters. They will undergo corrosion eventually but they're going to last a while. Saltwater reels, on the other hand, tend to undergo corrosion in a very short time. This is why the saltwater reels are made with material that won't corrode i.e, alloys. If a manufacturer uses a material that corrodes the saltwater reel.
Sealing
A few freshwater reels have components which are sealed. For High-end saltwater reels, it is a must. The gearboxes, drag system and bearings are prone to corrosion. When they're sealed, it reduces the probability of them being corroded. Freshwater reels don't have this feature.
Lure and Line
Heavier lines are used by saltwater reels. As the fishes are heavier in saltwater, you'd probably need something heavy for it. Also, the lures are bigger as well. Freshwater reels generally go the opposite route.
Type of Reel
This is the main difference between freshwater and saltwater reels. Freshwater fishermen use either spinning, spin casting or baitcasting reels. They don't use other reels, period. As far as saltwater is concerned, the reel changes according to the situation. Inshore fishing generally makes use of baitcasting or spinning reels while some use trolling reels to fish far from their boats. Special types of heavy spinning and baitcasting reels are used when offshore fishing is concerned.
Price
Since different types of components are used in saltwater reel production, they are priced higher than freshwater reels. Because of this, saltwater fishers try to make it work with freshwater reels but that never gels together. You need a solid saltwater reel for saltwater fishing.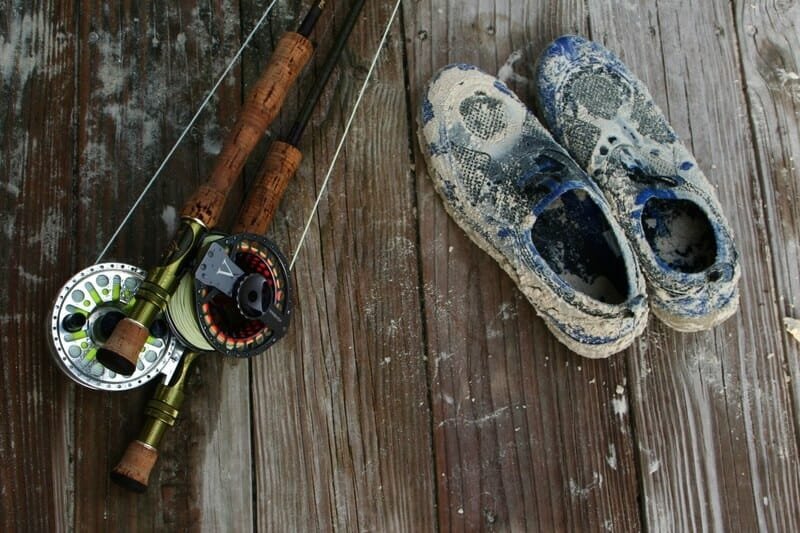 Buyers Guide For Best Saltwater Fly Reels
There are a lot of factors to be worried about while buying a good saltwater reel. Often times, people tend to forget this and end up buying something that won't satisfy their demands. Here, we'll try to give you a detailed buying guide on what we believe are the crucial things to look at while buying a saltwater fly reel.
Price
The price is so vast that it can literally give you a panic attack. The reels are available from anywhere around 30 to a thousand dollars. This shouldn't be a big deal though, as it is even better to have such a wide gap. Buying the right one, however, is tough. A good quality reel can be bought at the 150-200 dollars price range. While, if you go more than 500 dollars, you'll see some amazing reels with so many features that you might not even want. Want to catch a trout? Go with a 100-150 dollar range. Want to be in a fishing competition? Get a 500 dollar one just in case. What we mean is, the price depends on your needs. So, go for something good that doesn't put a hole in your pocket.
Build Material and Quality
There are reels made out of aluminum while some are made from stainless steel. The aluminum saltwater fly reels provide you with a really good performance and last longer. The stainless steel won't be up to par. But naturally, the aluminum one is going to cost a bit more.
Click
The sound that a fly reel makes must be satisfactory. If your fly reel gives a click sound when the line moves, then it's probably a good reel. More clear the click sounds, the better is the reel for saltwater.
Drag System
The next thing you need to consider is the type of drag system that you're getting on your reel. Disc drags are usually better than click-and-pawl drags as they will help you pull heavier fish. But, disc drags can cost a bit more. You wouldn't want to spend extra money on something that pulls the fish so get a really good reel with an exceptional drag system.
Size of Arbor
The arbor size of a fly reel is very crucial. The design of the arbor has changed over the years to increase the backing power and the speed of retrieval. The new design uses a spindle which is located in the reel's middle. Look for this design as it will provide you with better power and speed. Don't go for heavier arbors, go with the lightweight ones.
Size of The Reel
The last thing to consider is the overall size of your reel. It depends on the fishing rod you're using and the weight of the line. Choosing a wrong reel for your rod isn't something you'd want to do. So make sure you get the reel that matches with the rod.
Conclusion
Saltwater and Freshwater's fishing is different and you need a dedicated reel for saltwater fishing. Also, when you are planning for going to deep water fishing, you may wanna look at the top fishing kayaks under 1000 bucks which will definitely save you some money. Anyways, the guide to buying a reel is pretty straightforward with the most emphasis being on build quality, sealing, price, click, drag system, size of the arbor and reel. The Best Saltwater Fly Reels for the money are the ones which provide you with all these necessary features. You should also see the price to performance ratio and if you don't want to do the detailed research yourself, you can definitely buy the saltwater fly reels that we've reviewed. All the items in the review are pretty good and they'll definitely satisfy all your saltwater fishing endeavors.
FAQs on Saltwater Fly Reels
Q. How much backing is needed on a saltwater fly reel?
As far as the backing is concerned, you wouldn't need backing of more than 100 meters. Even a 50-meter backing is sufficient. Mainly because of the fact that inshore fishing's nature; it's hand to hand. On rare occasions, when big fishes are in question, you might need a 200-300 meter backing.
Q. Do I need a disc drag reel?
If you're trying to catch a rather small or a medium sized fish then the answer is No. You might not really need a disc drag reel. But if you're fishing a bonefish in salt water then, yes go for a reel with the disc drag mechanism.
Q. What do you mean by a single action reel?
Single Action Reel has a single turn on the reel's handle that implies, one turn on the arbor as well. Single action reels are designed with strength and dependency being the main focus.
Q. What type of reels are needed for saltwater fishing?
Multiple action reels are generally meant for saltwater fishing. Spinning reels are also preferred in the Gulf and the Atlantic coasts whereas the West coast could make use of the conventional single action reels.
Last update on 2019-09-20 / Affiliate links / Images from Amazon Product Advertising API