The thing with fishing pliers is that it is a tool that people tend to forget until the very moment when they start missing them. Fishing Pliers can be used to cut fishing lines, retrieve hooks and even bend wires. These tasks sound easy but they can be difficult when you lack the equipment. Fishing pliers minimize this difficulty and make fishing more fun for people. A fishing plier comes to your rescue in really tough situations. They are a must-have tool for any angler. It can be a bit frustrating to look for the best saltwater fishing pliers on your own. That is why we have brought you this review.
In this article, we are going to look at some of the best fishing pliers for saltwater fishing. We are also picking our favorites and providing you with much-needed information on the ins and outs of fishing pliers.
Best Saltwater Fishing Pliers
Preview
Editor's Choice
Editor's Pick: Why Did We Choose Piscifun Fishing Cutter?
The Piscifun Fishing cutter has the best design that we've seen. It has got an impressive finish, a CNC handle and a belt loop clasp for easy portability. There are some issues with the build that we encountered but we can look past that. The first time we used the plier, it worked like a charm and other times too, it was okay. We found the crimping slots very useful and the fact that we could use it like a fish holder really sold me to this plier. Considering all these pointers, we have chosen this as the best saltwater fishing pliers.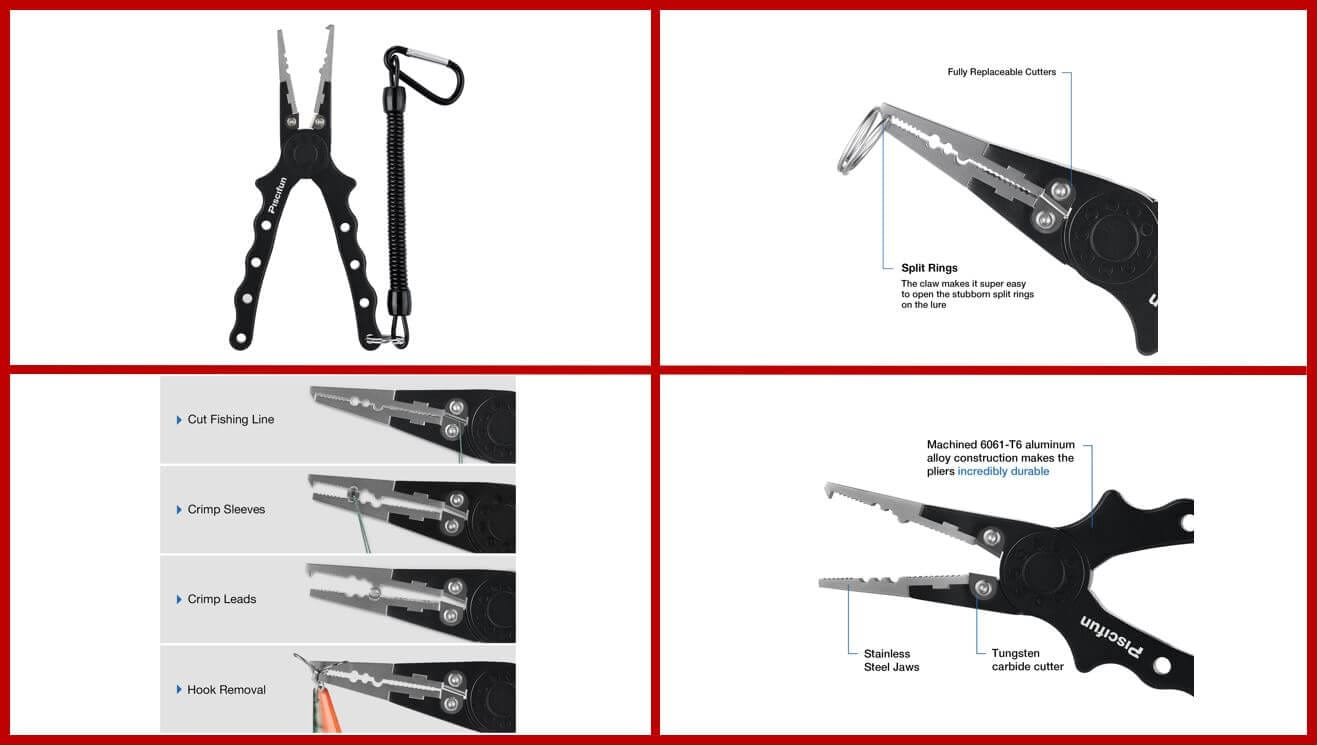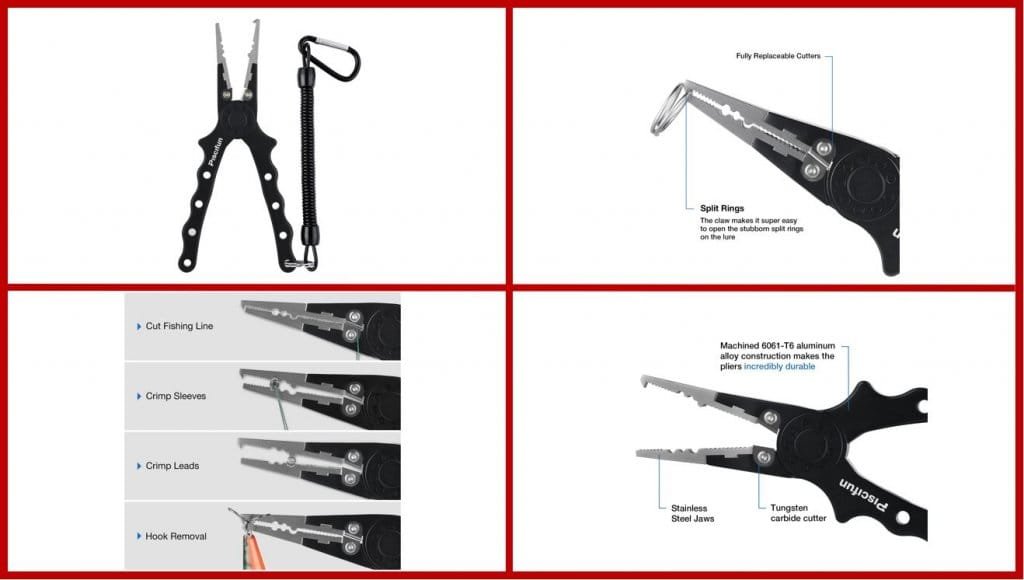 The Piscifun fishing pliers have an anti-corrosion aluminum built which can last for a really long time.
CNC handles of this plier have a solid grip and it feels durable to use.
Steel jaws have titanium built and the sharp cutters feature tungsten carbide as the material. It is able to cut braided lines, mono leaders, and backing lines.
In terms of portability, the pliers come with a nylon sheath. It has a coiled lanyard belt loop clasp that makes it ultra-easy to carry around with you.
The cutters are really sharp
It features crimping slots
The design is pretty great
It also works as a fish holder
Although we selected it as the best one, still being a piece of small equipment, over periods of time, the jaws become weak.
The specification of the Piscifun pliers boasts a lot in the material sector and it features an aluminum material. This build does save it from rust but it comes with another problem. The jaws are pretty fragile. We spent a month with these pliers and over time of usage, we saw the jaws weakening. It's really a deal-breaker for some. Switching to the positives, you get an extremely sharp cutter with crimping slots. The design is pretty nice as well. It also works well as a fish holder and the price is affordable. So, it's a good purchase overall and these are the reasons for which we have chosen this product as the best saltwater fishing pliers.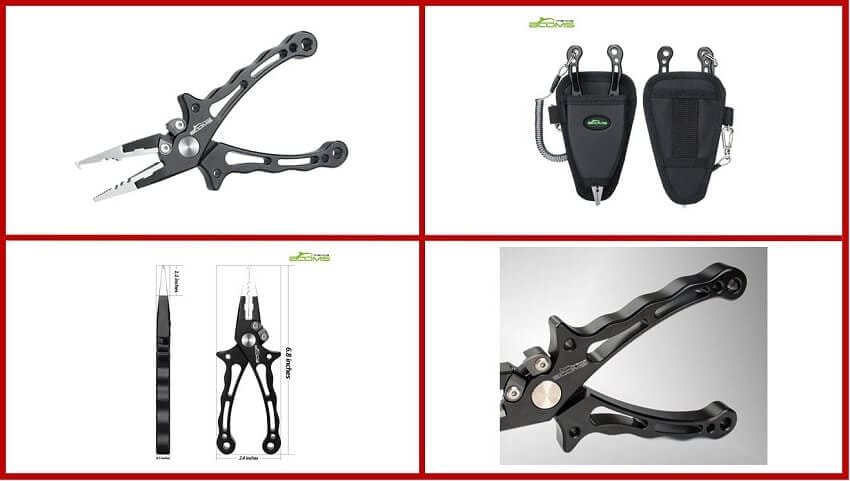 It features an ergonomic handle coupled with an inosculation jaw that can cut any lines that you can throw at it.
The handle can be gripped with ease with its two thumb baffles.
As far as the construction is concerned, a solid aluminum construction implies an impressive build with minimized weight.
Comes with molded pliers holster, it can be worn on belts and bags making portability pretty easy.
The cutter has a carrier board with tungsten carbide cutters.
3 Crimping slots are also provided with the package.
Spring and surge loaded handle is available
Aluminum build means resistance to rust and corrosion
Value for money
A safety lock is there
Can be a bit small for fishermen with large hands.
Sometimes, it fails under heavy pressure.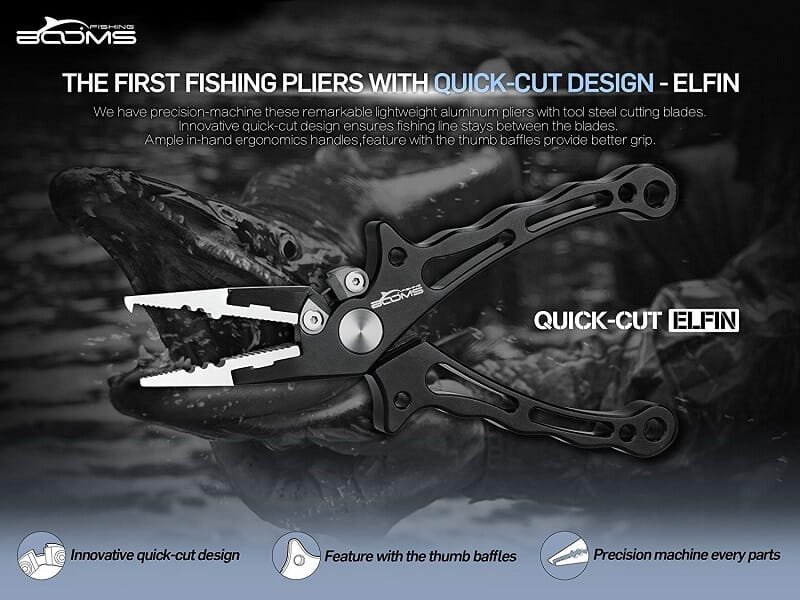 A lot of features are there on the Booms X1 plier, the safety lock will prevent accidental opening of the pliers. Aluminum build resists rust and the price is pretty good as well. Well, personally while using it with big hands, we noticed the small size of the plier but it isn't really a deal-breaker. What we actually didn't like was the build quality. Although for some people it might be a deal breaker, we think the quick-cut design of this plier actually speaks for itself which makes it a value for money product.
ZiTrades Fishing Pliers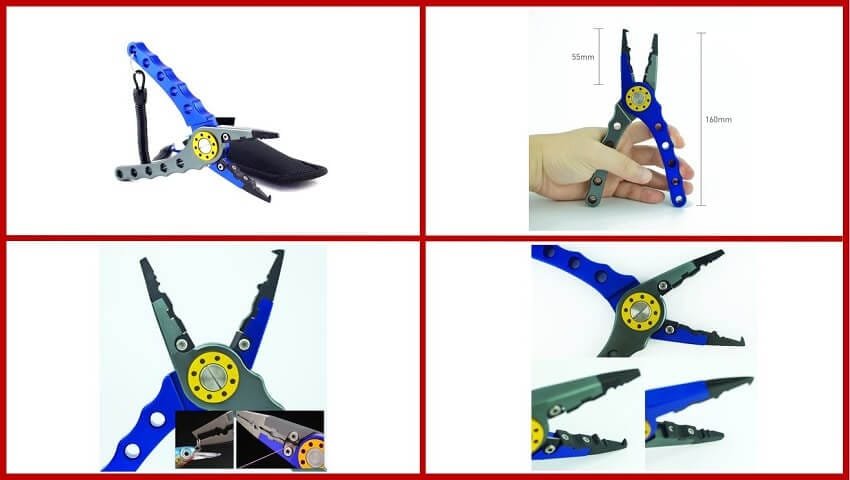 The Handle has a Deluxe Aluminum build
The plier is designed for saltwater fishing
A very dense handle is provided, it is portable and comfortable to use
The lightweight design has an impressive color combination making it as a piece of essential fishing equipment.
It comes with a holder that has a belt loop for portability.
Impressive value for the money
Ease of use
High portable due to lightweight
A bit fragile build
Not Shipped with an instruction manual
The Zitrades fishing pliers are marketed as a multi-purpose tool but it isn't shipped with a manual making it really hard to determine what that actually means. In the real world. it's an okay plier. We didn't find anything groundbreaking with it. We would say that it's easy to use and very portable. Considering the price of this plier, it is a really good purchase for most people.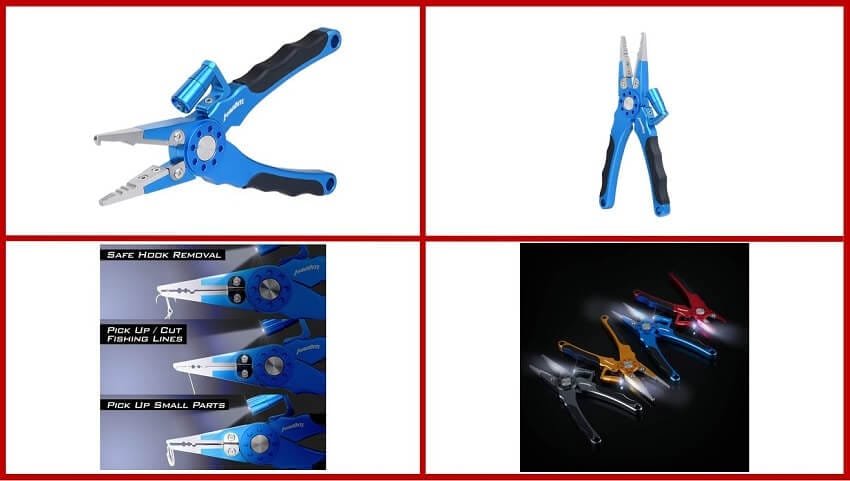 The Feature riched MadBite fishing pliers have an LED light that can shoot a bright beam of light directly to your work area, This can be really helpful f you're out fishing in low light conditions.
It is a durable fishing plier that has a really powerful light for hook pulling out braided cutting at night. The anodized aluminum fish plier lasts other brands which makes it a really good purchase.
It also has a saltwater corrosion resistant component.
The plier also comes with a 5-year warranty and it is also loaded with tungsten carbide cutters. These cutters are spring loaded.
It also has a grip handle for use. The aluminum is a 6.5-ounce aerospace-grade aluminum that provides quick hook removal from toothy fish.
The pliers are sized conveniently and they are really perfect for every kind of fishing. The batteries are LR41 standard which is included with the package.
The MadBite fishing pliers really knock it home with the features but sadly, we cannot say the same thing about its price. The plier is priced a bit more than other pliers in the list. The build doesn't help either. A fragile build is something I found to be a huge letdown. But it does come with a hefty 5-year warranty so, We won't worry much about the build. The lights present in the pliers are pretty thoughtful as well.
Other Top Saltwater Fishing Pliers
Preview
Product
KastKing Cutthroat Pliers
Preview
Preview
Product
KastKing Cutthroat Pliers
Preview
Preview
Preview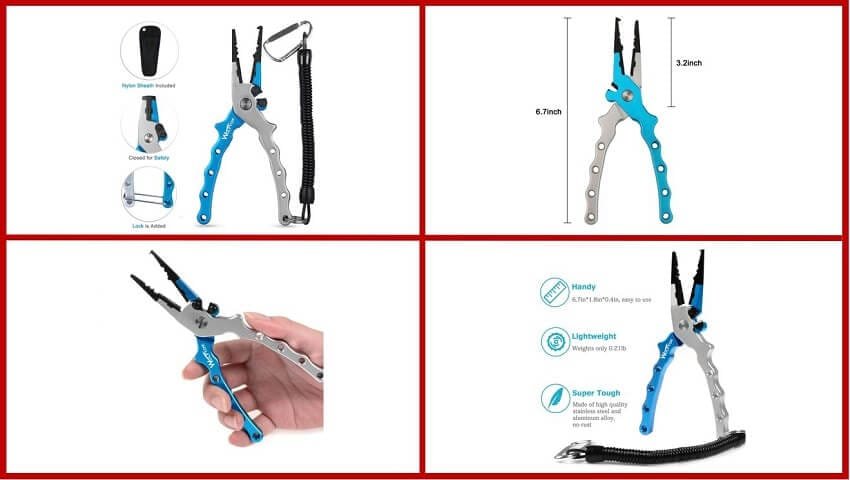 The Wolfyok pliers have an Aluminum build which is great because it doesn't rust
The Jaws have stainless steel built which is also coated with titanium.
Ring split design of this plier is really useful. It helps to remove the rings from the bait/hook.
Tungsten Carbide Cutters are present which are replaceable
It has an ergonomic design with anti-slip, spring-loaded designs
The Pliers are available in bright colors which increases the overall visibility of them making it very useful during the night time
It has a 1-year warranty included as well
The tight grip on the handle makes it really easy to use therefore, it is perfect for people who don't have any prior knowledge of a plier. The plier is also extremely lightweight meaning you don't have any portability issues with it. The rings present in the pliers can be split easily as well. The jaws can be a bit hard to close and the carry case provided with the pliers isn't really good.
The Pliers are made out of 420 stainless steel with a Teflon coating for protection.
It has Tungsten Carbide cutters which are really hard. The cutters are side-mounted anvil which means you can easily access it.
The Jaws of the pliers are multi-purpose.
The rubber handle of the cutter has an ergonomic design. It is comfortable to use.
A Sheath/Lanyard is included in the package, the sheath is custom molded and it has a belt clip as well.
Secure clip and easy handle
Sharp jaws and cutters
With the continuous use, it develops rust easily
Although KastKing has dubbed its Cutthroat cutter as being usable in both fresh and saltwater, that isn't entirely true. The cutter can rust easily which is really disappointing. You do get a really secure clip that can be used to tie cutter in your belt. In addition, the jaws are pretty sharp and the tungsten carbide cutter can be used cut through any lines. The plier itself is pretty easy to handle as well.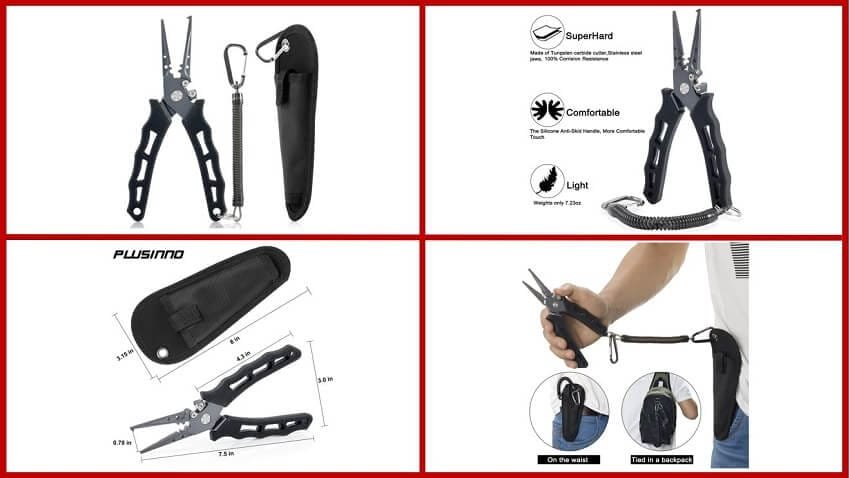 The Tungsten Carbide cutters can be used to cut lines that are braided and simple
There is also a presence of a Titanium coated stainless steel fish hook remover.
The material of the pliers is corrosion resistant stainless steel which is great for saltwater
This plier has an ergonomic design which is light-weight. This leads to a more comfortable fishing experience.

The plier is perfectly sized for all kinds of fishing, it is easy to carry and hold in hands

The PLUSINNO plier also features a 12-month warranty and a really friendly customer service for all your queries.
Comfortable to hold and use
Lightweight and Great design
Although it is pretty obvious, but there is no booklet on how to use the plier
With no instruction manual to teach you all the ins and outs of the pliers, it can be a bit difficult to get into it. We used the pliers for some time and it took us days to figure out all the ways you can use this product. A very steep learning curve. As far as the ease of use is concerned, for mundane tasks, the pliers work really fine. It has a Good handle and an impressive design. The ergonomic design coupled with a lightweight build makes this plier a must-have for every angler.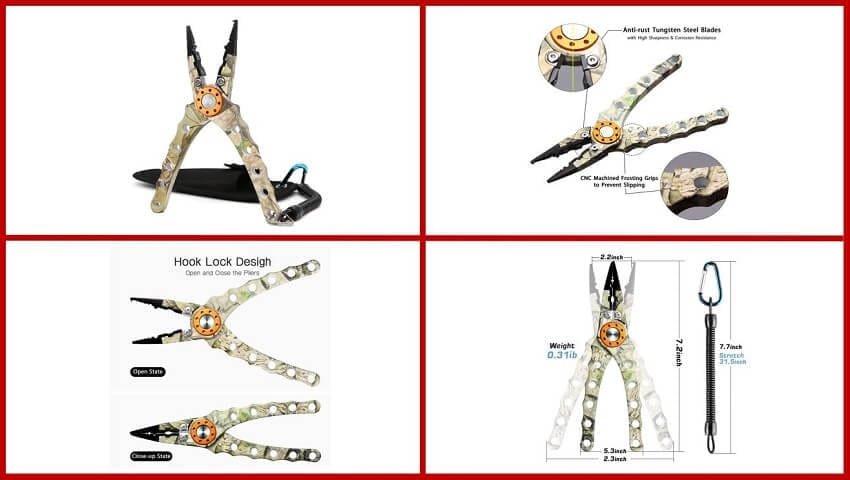 This Plier has aircraft grade anodized aluminum i.e, it provides a corrosion-resistant build.
The pliers are spring-loaded and they can be used with a single hand. The Jaws are titanium coated steels which are pretty strong.
Tungsten carbide cutters are really sharp that can cut all types of lines
The handle has a wave-like design which makes sure you get a firm grip.
SANLIKE pliers come in a kit format with a nylon sheath, belt loop clasp, and coiled lanyard. You also get a carrying case for portability.
The hollow design of the plier makes it very easy to use as well.
You receive a 1-year warranty from SANLIKE which is a good deal that you are getting here.
Affordable price tag
Warranty option
Supports saltwater as well
A bit of fragile build
The cutter is a bit blunt
The Aluminum build does support saltwater. We tested it and saw no rust accumulation. This build, however, feels pretty flimsy and the whole plier feels like it's going to bend pretty soon. There is a 1-year warranty so, the build quality gets a pass. What doesn't get the pass is the cutter which is a bit blunt as compared to some other pliers. The plier is priced affordably though, making it a solid buy for many.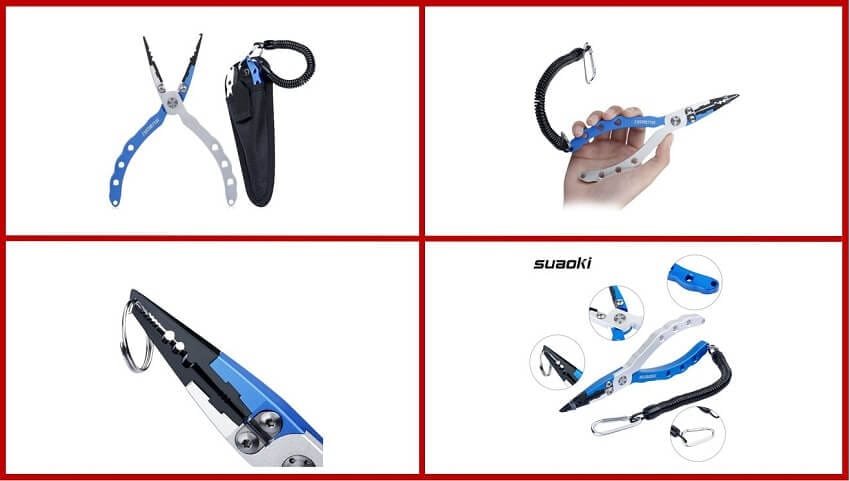 The pliers are pretty durable with an aircraft-grade aluminum build
The jaws are stainless steel and the handle has an impressive grip
Tungsten Carbide cutters are included in this plier and they are pretty sharp, can cut all kinds of lines
You get a really convenient case with the purchase, the case can be mounted to your belts
A spring lanyard makes sure that pliers are tied to the case which saves the pliers from accidentally falling in the water
Useful Case and Lanyard
Lightweight pliers
Surprisingly good packaging and price
Although cutters are sharp but they are a bit fragile
The SUAOKI pliers are shipped with impressive packaging that makes the unboxing experience really awesome. The pliers itself are lightweight and easy to use. We found the case and the lanyard very useful and since the package comes with minimum instructions, it's really easy to get started with it. Jumping to the actual performance, well, we didn't find that impressive. The cutters are decent but they feel fragile and the build quality itself isn't that good here.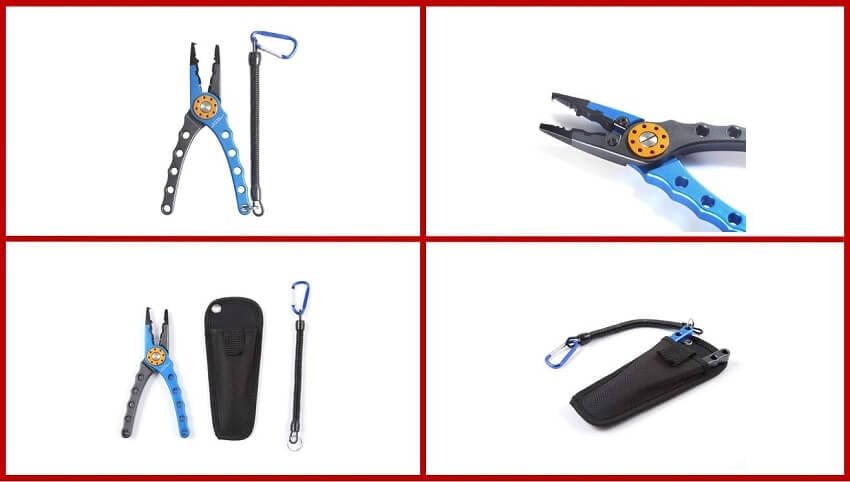 The Entsport pliers have aluminum construction which is high grade and it has the resistance against rust
Build is light and durable, the steel jaws are even more strong
The blades in the cutters have a tungsten steel construction for sharpness
This plier is equipped with a high-quality sheath
The pliers can be stored and transported easily thanks to the lanyard
This plier can be used for multiple purposes as well
Multi-purpose use
Sharp Blades
Although the blades are sharp, but over the time of regular use, the jaws can get rusted
The most disappointing thing about the Entsport pliers are the jaws, despite having an aluminum build on the rest of the plier, the Jaw has a steel build which can get rust pretty easily. We took the pliers for a spin and after a couple of days, we noticed the rusting first hand. Switching to the performance, the blades are actually pretty sharp and we saw no issue with it. Another good thing about the plier is that it can be used for many purposes. We used it to remove hooks, hold fish, cut lines etc and there was literally no problem with it.
What is The Use of Fly Fishing Pliers?
There are three main uses of a fly fishing plier. These uses are explained below:
Cutting Hooks & Line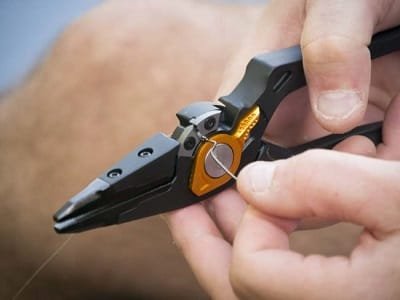 You may need to cut a hook at any time while fishing, to cut a hook properly you need to consider the hook size, your plier should be able to exert needed force to cut the hook in entirety. A weak plier can bend pretty soon and may not be able to cut. So, what kind of pliers should you buy for cutting hooks? We recommend you get a good pair of split ring pliers. They will help you in the long run.
As far as the lines are concerned, you should get fishing pliers that have very sharp-edged blades. A braided line can be more difficult to cut than a simple line. keep this in mind while purchasing a fishing plier.
Removing Hooks
While fishing, you have your hooks stuck on the mouth of the fish. Removing the hook from the fish can be a really difficult task, especially for new anglers. A fishing plier can help you with it. What kind of fishing plier you ask? The pliers with a long nose can be your best friend in such a situation. Long nose pliers have a longer reach so, they can get the hook out even if the hook is deep inside the fish's mouth.
Crimping Rigs
Crimping, also called Swaging is a way to make joins in monofilament and cable. A plier can help you with crimping rigs and save you a lot of time. If you don't have a properly crimped connection, you could lose your fishes.
Must-Have Features of Fly Fishing Pliers
Sharp Cutters
The main feature that a fly fishing plier must have is cutting. We've discussed this before. A plier is mostly used for cutting lines and the cutters present in the pliers help you do it. What makes a good cutter? Decent material like stainless steel or tungsten carbide and the sharpness of the build. You wouldn't want a blunt cutter in your plier. Also, most people find Pliers that have cutters on the top easy to use.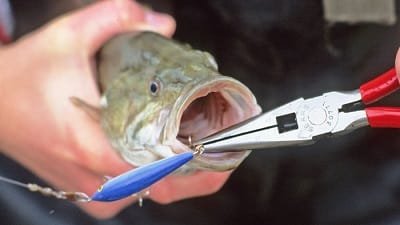 Speaking of the cutters, you may also need side cutters. It is used to cut the shank of a hook if it is stuck in the fish or your other fishing equipment. For hook cutting side cutter, build is a must. A strong side cutter, one that is thick and sharp can be used for this task.
Solid Grip
The grip is very crucial for a plier. While looking for a plier with the cheapest price, people forget about the grip. It shouldn't be compromised as pliers are a one-time investment for most people so, it's better to go for the quality. If you are frequent angler then, you should be comfortable with the plier. For that, you need to be able to hold a plier with comfort. But how to know a good grip? Generally, rubber grips are pretty nice. You may also hold a plier in your hands and see for yourself. A lightweight firm grip is recommended.
Nose Length
As we mentioned earlier, Nose length of a plier is used to remove the hooks that are stuck deep in the fish's flesh.
Build Quality
The pliers you buy for saltwater fishing shouldn't rust so, Aluminum is a good choice. But Aluminum is known to be fragile which makes Stainless steel even better. The confusion arises in the Stainless Steel quality, look for 420HC Stainless Steel which is the best for saltwater fishing. In terms of aluminum, aircraft-grade aluminum will definitely serve the purpose.
Protection
Pliers should be safe to use. They mustn't have too sharp edges that or uncomfortable handles that can potentially harm the user. Also, the pliers themselves should be strong and sturdy enough. There's no point in buying a fragile plier. The thing is, most strong pliers are pretty heavy and the light ones are fragile. So it becomes a bit difficult to get the perfect one.
Storage
A plier with a case a must. They help you to store the pliers safely. A belt loop clasp is also one alternative that can be helpful for you. Lanyards are underrated but they can help you preserve your fishing pliers as well.
Other Features
Other features that you may need in your pliers are ring splitters that are very useful while changing hooks. Also, a multi-tool fishing plier is better than a single purpose pliers as it provides a number of tools in one place. This will make your life as an angler a lot easier.
Freshwater vs Saltwater Pliers
There is not much difference between Freshwater and Saltwater pliers. The only main difference is the build of the plier. Aluminum pliers are needed for fishing on saltwater while Freshwater pliers don't require a strictly aluminum build. Some of the things like the type of design can make a difference as well. For instance, saltwater fishing requires long nose pliers while freshwater pliers don't. Also, there are other pliers that can be used with both fresh and salt water.
Final Words
Fishing pliers are really useful for cutting and removing hooks from the fishes. They're also used for crimping rigs. There are a lot of things to consider while getting a fishing plier. You need to look for sharp cutters, storage options, protection, and build quality. Finally, you have to consider your budget and then make a purchase. You don't need to spend a lot of money but getting one of these best saltwater fishing pliers that has quality written all over it is a huge plus.
Frequently Asked Questions
Q. Are Fishing pliers necessary?
Ans. If you want to save time and make your fishing life easier then, yes, it is necessary.
Q. Should I spend a lot of money on Pliers?
Ans. You buy a plier once or at max, twice every 2-3 years so, it is better to go for quality and quality pliers can set you back on the money.
Q. What is the most important feature of a saltwater plier?
Ans. Aluminum build. You don't want your pliers to rust.
Q. Are carrying cases necessary?
Ans. A plier that has a carrying case or/and a belt holder is not a must-have but it is a pretty good deal.
Last update on 2019-08-25 / Affiliate links / Images from Amazon Product Advertising API