Pliers are one of the most less used but important tools in the angling world. No matter the kind of fishing you do, you will definitely need a pair of good fishing pliers. These pliers make it really easy to unhook a fish, tighten hooks and cut fishing lines. They will help you save time and on top of that, you don't have to use your fingers and do these things manually. To use these properly, you need to know how to use fishing pliers properly.
Fishing pliers are generally easy to use but you may need some training beforehand. In this article, we are going to learn to use fishing pliers properly and make sure our productivity increases.
Why Do You Need Fishing Pliers?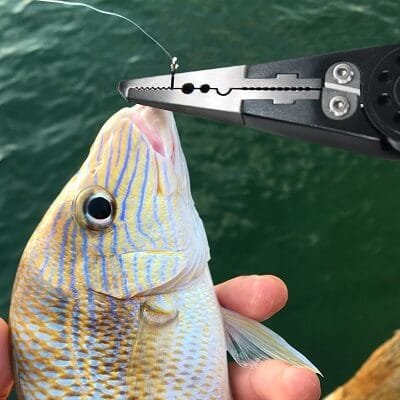 Before learning to use a fishing plier, it is important to know the purposes for which a plier is needed in the fishing world. There are multiple uses of a fishing plier. They are as follows:
The primary use of a fishing plier is to cut hooks and lines. There are many kinds of fishing lines for which different types of fishing pliers are available in the market. The hook size determines the kind of pliers you need as well.
The hook can be stuck inside a fish's mouth sometimes so removing the hook is necessary. Doing it manually is a bit difficult whereas a plier can be used for this purpose to make the process more efficient and effective. You can use a plier having a long nose so that the plier can reach longer inside a fish's mouth.
Sometimes while fishing, you need to make joints in monofilament and cable. This is called "Crimping." Not having a crimped connection could result in losing the fishes and pliers can be used with ease to crimp rigs.
How To Use Fishing Pliers?
Without wasting any time, let us just dive into the actual way of using a fishing plier. Okay, so you're ready? Let's start
The first thing you need to do is to open the plier's handle to open the jaws
Now, open the split ring. It can be a bit tricky, just press on the nose of the plier between the rings.
What I need you to do now is to make sure that the pointy end of the split rings align in a way that they are close to the ring's end.
The pliers should be held with a decent grip now. Slide the old hook around the ring till it gets out of the split ring's open end. You should slide it in a way that the split ring is open for the hook to pass through.
Open the split ring again and slide the new hook into the opening. The hook should be in place on the split ring before you slide the pliers around the ring. You should keep it open to slide the new hook through the opening.
Repeat up to step 5. Make sure the hook clears the ring. And it is placed before proceeding further.
Now get rid of the pliers from the ring
After you're done with these steps, your lure is prepared for fishing with a current hook.
Redo these steps when your hooks are damaged again.
What Are The Best Fishing Pliers?
Preview
Editor's Choice
Premium Choice
Best For Saltwater
Editor's Choice
Preview
Premium Choice
Preview
There are many fishing pliers that are quite good. Out of all this, we've chosen these three best options for you. Let's see what each of them brings to the table.
The Piscifun fishing pliers feature an anti-corrosion aluminum built. This built can withstand many forces on saltwater. There is a CNC handle for a really good grip. The jaws are built with titanium and the cutters are sharp, they have the tungsten carbide built. The cutter is able to cut all kinds of lines and leaders. You get a nylon sheath and a belt loop clasp, these two things make it easy to carry the device around with ease. The plier is meant for both saltwater and freshwater on paper but there are some cases where it can rust easily.
The rust-resistant Booms Fishing X1 has an aluminum construction with minimum weight making it perfect to carry around. The grip on the handle is sturdy and it has inosculation jaw as well. The booms fishing X1 comes with two thumb baffles and a molded holster to make the portability easier. The cutters have a tungsten carbide built and 3 crimping slots are provided. The plier can be used with ease in both salt and fresh waters.
The Zitrade fishing plier has an aluminum handle and is designed exclusively for Saltwater fishing. The handle is the main feature of the plier, it is dense and comfortable to use. The plier is super portable as well as it has a pretty lightweight build. The design of the pliers is great with a cool color combination that catches many eyes. For portability, the plier comes with a belt loop clasp. The plier is easy to use portable and has an impressive value. The downside being the visibly fragile build of the plier and a lack of instruction manual which doesn't let it perform to its full potential.
How To Choose Fishing Pliers?
There are a lot of factors to keep in your mind while shopping for a pair of fishing pliers. These factors are given below:
Use Case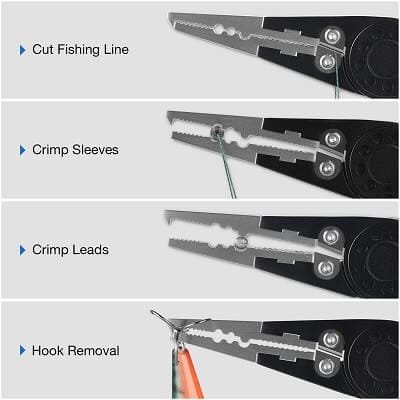 Different types of pliers are used in different conditions. You shouldn't use a plier that was meant to be exclusively used with Saltwater fishing and use it on freshwater. Although there are some pliers that can be used with both kinds of water.
Material
The best materials that a fishing plier should have are aluminum and/or stainless steel. For saltwater fishing, aluminum pliers are recommended. Make sure the stainless steel ones are good enough as there are many kinds of stainless steel pliers.
Nose Length
The length of the nose is necessary as some fishes are pretty stubborn and the hooks may be deep inside them. A long nose is very useful for these larger fishes. Since large fishes are commonly found in saltwater, a long nose plier is best for saltwater.
Cutters
The thing that cuts the lines and does all the work is a cutter and it is crucial to have a good cutter. Most pliers have side cutters which work fine but it may be hard to use when you want to cut braids.
Split Ring Tool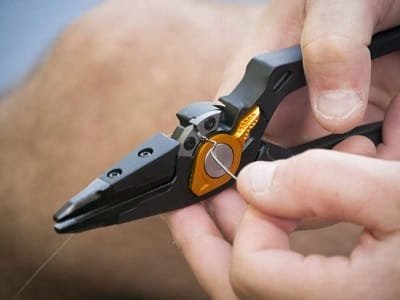 A plier with a split ring tool is needed while changing a treble hook present on the lure. Fishermen use this tool for installing a split ring.
Design and Handle
Different pliers are designed for different purposes. Search for the pliers having an ergonomic design that can withstand extreme conditions. The handle should have a proper grip as well.
Weight and Price
A fishing plier should be comfortable to use. It shouldn't be too heavy for the anglers. Also, don't get a very lightweight plier as the lightweight pliers can get broken quickly. A high-quality plier is a good investment but you don't really need to buy a super expensive plier. Just get the one that kind of fits perfectly for you.
Final Words
Fishing pliers are pretty easy to use. With a little bit of work, you will master them in no time. You just need to keep practicing. There are a handful of things that you might want to consider before buying a plier or, you can always go with our recommendations. All the pliers we've recommended in this article are top quality. They will help you with your fishing endeavors.
Last update on 2019-09-20 / Affiliate links / Images from Amazon Product Advertising API